CoBu Awnings and Blinds offer a wide range of quality and affordable window furnishings allowing our customers to find the perfect solution to suit their decor and budget. We have an extensive range of Blinds, Awnings and Shutters for your internal and external requirements.
To ensure our customers peace of mind our entire range is backed by a solid manufacturer's warranty.
CoBu service Canberra and surrounding areas, Batemans Bay and Ulladulla.
Contact us for an obligation free quote today and CoBu's mobile showroom will come to you.
CoBu Awnings and Blinds is a family owned and operated company servicing Canberra and surrounding areas, Batemans Bay and Ulladulla.
We pride ourselves with providing a comprehensive range of high quality and affordable, custom made blinds, awnings and shutters allowing our customers to find the perfect solution to suit their décor and budget.
CoBu Awnings and Blinds offer a professional and reliable installation service. All installations are skillfully carried out by professional craftsmen.
To ensure our customers peace of mind our entire range is backed by a solid manufacturer's warranty.
With over 20 years in the business we will impress you with our personal service from first contact to installation through to after sales backup. With this wealth of knowledge CoBu can offer sound advice as to the best type of window covering, fabric and colour to suit your individual needs.
Contact us today for an obligation free quote and CoBu's mobile showroom will come to you equipped with a full catalogue of fabric and colour samples.
Folding Arm Awnings
Folding arm awnings provide maximum flexibility and usability for outdoor living spaces.
With four styles to choose from, depending on aesthetic, budget and required position – the folding arm awning provides a number of different solutions for patios, verandas and decks.
Made in Australia using European design and technology, the folding arm is built to last – while a host of accessories are available to complement the fixture.
Veue Drop Awnings
The Veue Drop Awnings range has been designed by Australians, specifically for our lifestyles with styling and quality in mind. This modern and contemporary series is suited to all exterior buildings.
The Veue Drop Awnings range offers four different outdoor shading systems to suit a variety of applications while retaining a consistent aesthetic. Veue comprises of straight, wire guide and channel guide drop as well as a pivot arm option, allowing you to personalise the perfect awning to suit your  external shading requirements.
Zipscreen Awnings
Zipscreen external roller blinds allow you to seamlessly integrate indoor and outdoor entertaining areas.
By allowing outdoor areas to be protected from the elements, without blocking out the view, Zipscreen all weather blinds are the ultimate solution for any outdoor area or window.
Designed to make the most of alfresco entertaining areas, they can be installed on patios, pergolas, and balconies – to name just a few.
The total seal provided by Zipscreen's patented zLOCK technology and bottom sealing strip provides protection from sunlight / UV rays and insects.
Traditional and Budget Awnings
Traditional & Budget Awnings provide a classic feel for properties wanting a particular look at a certain price point.
They range from the straight forward to the traditional looking "Automatic" – perfect for the classic Australian home.
These include: automatic awnings; side channel awnings; verandah straight drop awnings; and cafe fixed no frame awnings.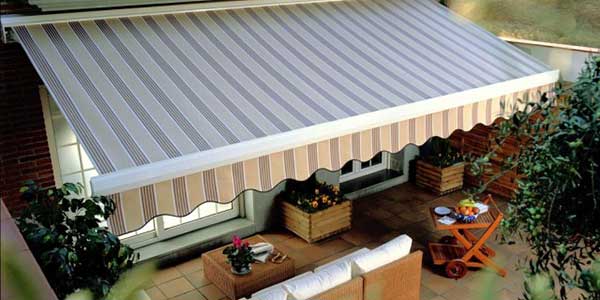 Exterior Fabrics
The fabrics not only vary in colour, but in material type too – allowing an awning to compliment a property and provide you with the shade and protection that  you desire.
Colours range from the traditional and classic, to the modern and stylish. Whilst the fabrics vary in thickness allowing you  to choose a level of light and water protection from light filtering to full waterproofing.
Roller Blinds
Roller blinds are simple and functional in operation, but stylish and modern in design and fabric. With a number of Fabric Collections to choose from, the Roller Blind can provide solutions for every room in a property.
Choice of bottom rails, control mechanisms, closed cassettes and linked blinds all add to the Roller Blind's functionality.
Roller Blind features include:
the ability to be housed in a cassette tidying away the mechanics
can be set up as either a standard forward rolled or reverse rolled blind
easy maintenance with many fabrics washable
the option to have a side channel with the Roller Blind for 100% complete blockout – ideal for Home Theatres, Media Rooms, Conference Rooms, Offices and Schools
accentuating height and space producing an aesthetically pleasing window furnishing.
Venetian Blinds
Available in  50mm or 63mm width slats, with widths up to 2.4m, in a range of fresh and modern colours and finishes.
WoodNature Blinds provide you the look of real wood, with the quality and durability of advanced technology that is resistant to discolouration and warping.
The natural earthy properties of 'WoodNature' Timber Venetians give any room a feeling of warmth and natural beauty.
Vertical Drapes
Vertical Drapes allow complete light control  and are most popular for sliding doors and windows. They are sophisticated yet casual, light and breathable.
We offer an 89mm and 127mm width blade and a child safe wand that controls sideways movement and tilt.
There is a huge range of fabric on offer from translucent to blockout or textured styles, all reflecting the essence of Australian living.
Panel Glides
Panel glides are a visually arresting contemporary blind that will transform any room into sophisticated luxury.
There is huge selection of fabrics, colours, weaves and textures available.
The panels can either open from the centre or the side and are an extremely easy to use, wand operated sliding blind. There are optional design elements on offer to create a more classical composition.
The versatile Panel Glide can also be used as a room divider or as a stunning, timeless window shade.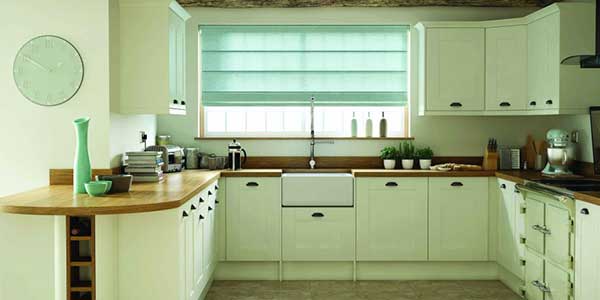 Roman Blinds
Roman blinds are an ideal way to provide continuity when lowered, yet can be different enough to create a subtle, pleasing contrast when raised to allow uninterrupted views. They are the perfect complement to the Panel Glide Blind ideal for any size window.
Our large Roman blind fabric and colour selection allows you to create a chic back drop to any room. With chain operated control systems and wooden batten or back extrusion options providing a tasteful interplay between textures.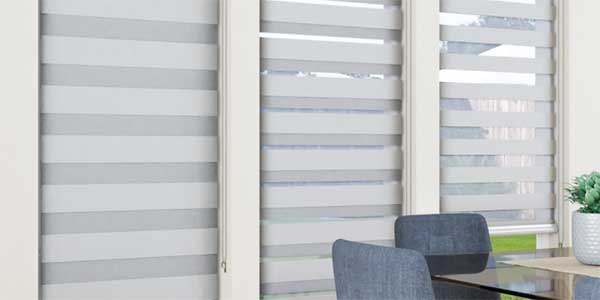 Zebra Blinds
The Zebra blind is an innovative new blind that offers the consumer stylish practicality.
Zebra blinds feature two layers of translucent and opaque horizontal striped fabric.
The front layer moves independently to the back allowing the stripes to glide between each other creating an open and closed effect, with limitless light control.
When sliding the fabric into the closed 'opaque-opaque' position, the consumer is provided full privacy and an impressive room darkening fabric at the same time.
A single chain control is used to slide the opaque and translucent woven stripes past each other. The same chain is used to raise and lower the blind to any height along the window with ease, not dissimilar to the way in which a roller blind would.
Pelmets
Pelmets and Valances allow you to add the finishing touch to your blinds. They come in a number of colour and bracket choices providing that extra bit of style to the Blind.
Pelmets totally enclose the top of the window furnishing, preventing heat loss and providing energy savings.
Valances hide the hardware of the blind giving a crisp and sleek look, ideal for any property.
PVC Panoramic Shutters
Competitive pricing, durability and versatility, PVC Shutters are hard to beat for all internal applications.
While extruded PVC components are strong to start with, hollow components have added rigidity in the form of Aluminium reinforcing. All louvres and stiles, as well as some rails, are supplied with this reinforcing, to ensure your PVC panels remain structurally sound for years to come.
Being made from a material that is not susceptible to moisture is a huge benefit of PVC shutters. They are the perfect choice for bathroom, laundry or kitchen installations because they are not affected by splashes of water or steam and can be supplied with Stainless Steel hinges to avoid any possibility of corrosion or rust caused by moisture.